Adoption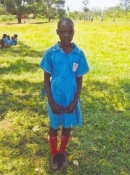 Our school has decided to take part in the project Adopce na dálku ®. The students collected money to support the education of a 9-year-old girl Gloria Nakafu from Uganda in Africa.
The girl has sent us school certificates and also a letter with some pictures.
Transcript of letter:
7-7-2008
Dear pospisilova Eva,
I am really happy to get news from my social worker that I got you who is going to assist me with studies before I greet yu let me thank you fro choosing me from the many chilren from Ugana who are looking for help to study. How are you plus your family. Lovely Eva I am Girolia from Uganda. Uganda is situated in the East of Africa and the capital city is Kampala. I am studying at impirivuma (?) primary school. In primary 5 my favourite subject is mathematics and I have my bst friend called Uditha. During my free time I play net ball. In my country we have two seasons through out the year sunny and rainny. Let me end up here by wishing you nice stay with your family. My family member´s send you warm greetings to you all
with Lots of Love
Grolia Nakafu
For official use only:
Childs Name – Grolia Nakafu, Code – 9631
Sponsor´s Name – Pospisilova Eva, Code – 2A328
Done with the help of social worker, Ssendagire Echoard
Uganda Czech development trust
P.O. BOX
Kampala
Uganda
East Africa
Basic dates:
Date of birth: 5. 12. 1998
Religion: catholicism
Residence: Nsavu
Father: Mukasa Joseph – died
Mother: Jane Nantumbwe – farmer
Brother and sisters: Sharon Nanshire (12 year old), Joan Kizza (14 year old)
For more information about the project go to www.charita-adopce.cz.